Tile Flooring
Choosing flooring for your new home or remodeling project is a big decision. There are a lot of materials, styles, and colors to choose from — how do you know what's right for you? Gateway Design & Home is here to help! Our expert team knows the ins and outs of all we have to offer, including tile flooring, and we can connect you with the best choice for your home, lifestyle, and budget with a one-on-one consultation. Read on to learn more about the pros and cons of tile flooring, and contact Gateway Design & Home or visit our Loveland showroom today to get started!
Advantages of Tile
If you're looking for a beautiful and durable floor that will last for years, then tile is a great choice! This tough material has many advantages over other types of flooring that can make it the perfect option for your home. Keep reading to learn more about what you have to gain from tile flooring, or visit Gateway Design & Home in Loveland to hear how our expert team can customize our tile options to your needs!
Moisture Resistant
One of the greatest advantages of tile is its resistance to water and other liquids. While solid hardwood is often restricted from high-moisture areas like the bathroom or kitchen, tile flooring is a strong frontrunner for those areas. Properly glazed or sealed tile is practically impervious to spills and stains, whether you're worried about splashes of red wine or pet accidents.
Easy Maintenance
Because tile is so water resistant, it is exceptionally easy to clean. Most spills can simply be wiped up or washed away with warm water, and tile can be treated with heavy duty cleaners when necessary without damage. For everyday maintenance, simply sweep regularly or vacuum with a soft brush attachment!
Durable
Tile, whether you choose ceramic tile, porcelain, or stone, is a tough material. It's hard to crack and most materials are hard to scratch. Ceramic and porcelain tile are some of the longest lasting materials available. Your tile flooring can last for decades with proper maintenance, and if a tile or two does sustain damage, you can easily replace those individual tiles without removing the entire floor.
Allergen Resistant
If you or members of your family struggle with asthma or indoor allergies, then you should know that tile flooring is hypoallergenic! It won't trap irritants and allergens like carpet can, and most dirt, dust, and pollen will be easy to spot and easy to clean. Tile also doesn't contain volatile organic compounds (VOCs), which are off-gassed by some carpet and wood products, so choosing tile flooring can lead to better indoor air quality in your home.
Design Options
Not only do you have several materials to choose from when considering tile flooring, but you also have many color, style, and shape options. There are many printing choices to explore thanks to modern manufacturing, including patterns to mimic the look of hardwood or stone. You can also mix and match solid tile to create patterns or motifs, and you can even choose non-traditional tile shapes like triangles or planks for a unique pattern.
Eco-Friendly
Many of the benefits of tile flooring we've already listed contribute to one more advantage: a smaller environmental impact! Choosing a long lasting material like tile means that you won't have to replace your floor for years – or perhaps decades – which means that you are reducing the environmental impact of manufacturing, shipping, and installing new materials.
In addition, the availability of tile manufacturers throughout most of the U.S. cuts down on the costs and drawbacks of long-distance transportation, and many factories are now focusing on minimizing waste by reusing water and materials throughout the process of creating tile. Tile flooring can even contribute toward Leadership in Energy and Environmental Design (LEED) points and credits if you want to certify your home as environmentally friendly.
There are a lot of benefits that come with tile flooring, but there are also a few drawbacks you should consider before finalizing your decision. Read on to learn about some of the disadvantages of tile, or contact a member of the Gateway Design & Home team for personalized recommendations on your next flooring project!
CTA Banner: Call Today for a Personal Consultation
Disadvantages of Tile
While tile flooring does come with many advantages, it does have its disadvantages as well. At Gateway Design & Home, we want to help you make an informed decision! Explore the aspects of tile flooring that you should plan ahead for, and learn how you can mitigate these drawbacks with advice from a Gateway flooring professional!
Challenging Installation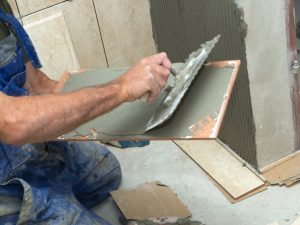 One of the most important things to keep in mind when choosing your new flooring is that installing tile can be challenging. If you are looking for a do-it-yourself-friendly material, then we don't recommend tile. You'll need specialty materials, tools, and expertise to achieve positive results, which can make DIY tile installation expensive as well as time-consuming. It's a labor-intensive process, which can make hiring an expert tile installation team pricy, but Gateway is here to connect you with experienced professionals for a simple process and budget-friendly pricing.
Uncomfortable
Tile is pressed and fired to be a very hard surface, and while this contributes to its durability, it can make it uncomfortable underfoot. Consider this factor carefully before installing tile flooring in any room where you spend a lot of time on your feet, such as the kitchen. Tile can also be cold under bare feet during the colder months, although it can be pleasantly cool during the summer. One great way to mitigate these discomforts is to supplement your beautiful tile floors with rugs or anti-fatigue mats!
Vulnerable
As we mentioned, installing tile can be difficult. Unglazed tiles and the grout in between needs to be sealed properly in order to be moisture resistant. If they are not installed and sealed properly, water can seep down and weaken the installation, encourage mold, or cause other long-term problems. If you have your heart set on tile flooring, we recommend trusting the professionals of Gateway's tile installation team!
If the advantages of tile flooring outweigh the drawbacks, visit the Gateway Design & Home showroom in Loveland to take the next steps of your flooring project! You've made one decision, and now it's time to sift through your options for the specific material you want to use as well as color and style.
CTA Banner: Start Your Tile Flooring Project With Gateway!
Types of Tile
Deciding on tile flooring is just one step in the process of beautifying your home. There are also choices to be made about what kind of tile you want to use!
Ceramic Tile
Ceramic tile is made from molded clay materials. There are several different methods for forming and molding these tile sections, often including high pressure and/or hardening at high temperatures, which contributes to the durability of tile flooring. Ceramic tile is a popular option for many because it is high-quality, long-lasting, and relatively inexpensive when compared to other varieties.
Porcelain Tile
Porcelain tile is technically a subset of ceramic tile, but there are several characteristics that set it apart. For one, porcelain tile is made differently than most ceramic varieties — while porcelain includes clay and minerals like ceramic, it also contains 50% feldspar. Feldspar is a type of crystal that bonds the molded materials together into a glass-like consistency, and is often included as a white dust or sand material.
Porcelain tile is often more expensive than non-porcelain ceramic tile, and it can be harder to work with. However, the difference in material and the process of kiln drying at extremely high temperatures can make porcelain even more durable, stain resistant, and water resistant than traditional ceramic. It's also available in many different colors and styles, including wood or stone.
Stone Tile
If you enjoy the look of stone, you can also choose to invest in natural stone tile, with materials that are quarried, finished, and cut. Common types of stone used include granite, marble, limestone, and slate, but differences in materials as well as when and where the material was quarried can affect the end product.
For stone tile, many choose from natural, honed, or polished finishes. Polished stone can create an almost mirror-like finish, with less porosity and therefore stronger water resistance, but also creates a more slippery surface.
If you are considering stone tile, keep in mind that it is often more expensive than other kinds of tile and often requires more maintenance. While we think of stone as a strong, invulnerable material, it can actually be more delicate than hardened, kiln-dried ceramic. Marble tile, for example, is particularly vulnerable to scratching.
Other Materials
Stone and ceramic are not your only choices when it comes to tile flooring, and changes to the ingredients the tile is made with or to the manufacturing process can lead to very different appearances or characteristics. You can also find tile in materials like brick, cement, glass, and metal, but these materials are often best used to create patterns or mosaics or used as accent tiles.
Explore Your Options With Gateway
What kind of tile would work best for your home and your budget? The experts at Gateway Design & Home can help you decide! We offer personalized advice to every customer, and you can get started today by scheduling a one-on-one consultation at our Loveland showroom. Contact us to learn more!
CTA Banner: Find Your Perfect Tile Flooring Today
Tile Services
Gateway Design & Home can do so much more than help you find the right flooring for your next project. In fact, we're here to support you every step of the way, from choosing your material to making it a part of your home. Check out our tile flooring and home remodeling services!
Tile Installation
Not only can the experts at Gateway help you determine the best materials, colors, and designs for your home and budget, but we can also ensure that you love the final look with professional tile installation services. Our experts are second to none here in the Front Range!
We begin each installation project with a free in-home consultation to better understand the details of your project and your vision of the final results. Then, we'll carefully move any appliances we need, remove any molding or trim in the area, and address the installation area. We'll examine your existing floor for damage or uneven spots and repair, patch, and level any problem areas before making your beautiful new tile floor a reality.

Countertops, Backsplashes, and More
Did you think our tile installation team exclusively worked on floors? Think again! We can also help you tackle your kitchen or bathroom design project with options for countertops, backsplashes, and tile showers. Match your tile options or visit our Loveland showroom to see our collection of marble and granite options for your countertop.
Whether you are creating your dream space from scratch or remodeling an existing room of your home, you can find the materials and expertise you need with Gateway Design & Home. Contact us today through our online form for a free quote or call to schedule a one-on-one consultation at our Loveland showroom. We look forward to working with you!
CTA Banner: Make Your Home Beautiful With Gateway Design & Home