We all dream of building or remodeling the home we've always wanted without restrictions, but, unfortunately, life isn't a video game where you can turn off the budget requirement. When it's time to tackle a new flooring project, it's important that you know exactly what you can afford. There are several "hidden" costs you may not think to anticipate, which can come as an unpleasant surprise. On the other hand, if you think ahead, there are a lot of flooring options on the market that offer the perfect compromise of beauty and affordability.
Gateway Design & Home Center in Loveland wants to help you find the right kind of flooring for your home and your wallet, so here, we'll go over a few considerations to make while you calculate your budget. Whether you need a little guidance in finding a flooring style that works for your tastes and your wallet, or you're ready to jump into your new project with both feet, the Gateway Design team is here for you. Stop in to our Loveland location to explore all our options or call today to schedule your one-on-one consultation!

The initial price of flooring, typically calculated per square foot, is what most people think of when they consider what they can afford, and for good reason: it will be the bulk of the cost. So, when drawing up your budget, you should first measure the square footage of the space where you want to install your new flooring. That will give you an idea of how much area you want to cover, and give you a good number for calculating the final cost of whatever material you would like to use. We've sorted popular flooring materials into three categories – expensive, moderate, and budget-friendly – to help you determine what will work best with your budget.
---
Expensive
As you probably suspected, stone and solid hardwood flooring are the two materials that typically come with the highest price tag. Cost will always depend on quality, and it is possible that you can find more affordable options of each. Hardwood flooring that uses domestic woods like oak or birch, for example, will be cheaper than exotic woods like Brazilian cherry.

Moderate
There are several flooring materials that fall in the middle ground between low cost and high quality. Engineered wood flooring, for one, can be a wonderful choice for homeowners who can't give up the look and feel of hardwood, but want a more durable and cost-effective choice. Ceramic tile can also fall into this category, but it may come with high additional costs because of the more challenging installation process, which we will discuss in more detail in a moment.
---
Budget-Friendly
When you are looking at flooring materials that will be a little kinder to your checkbook, keep in mind that there is a difference between materials that are affordable and those that are cheap. Bargain-bin prices usually come with bargain-bin quality, so choose carefully. That said, there are some great options in this price category, thanks to new innovations and implemented technology. Laminate and vinyl flooring are both good examples. You may have heard of laminate flooring's less-than-stellar reputation for looking as cheap as it costs, but new printing techniques have led to some truly incredible varieties. The texture of hardwood flooring is hard to replicate, but the appearance, as it turns out, is not. Laminate wood flooring and wood grain vinyl are two ways to combine beauty with amazing longevity and affordability.
You can explore all your choices at Gateway Design & Home Center's Loveland location. We have a wide variety of flooring materials on display in our showroom, and our staff can help you determine what will best match your expectations for price, quality, and style. Choosing new flooring is a big project, but we're here to make it simple. Take the first step toward a new floor you love and call to schedule a personalized consultation!
---
---

Investing in new flooring is never as simple as paying for the exact square footage you need. You still need to install it, after all. The cost of that installation will depend on the kind of flooring material you choose and how you choose to install it, but it will cost something. Here at Gateway Design & Home Center, we want to help you avoid a nasty surprise at the end of your project when you get the bill. Plan your new flooring budget comprehensively and remember to keep the following factors in mind.
Delivery
If you are getting your new flooring materials delivered directly to your home, then you can expect an additional charge for the convenience. You may be able to avoid this by hauling the materials home yourself, but make sure you have the right vehicle, manpower, and any necessary tools to do the job before you cross this cost off of your list. In the grand scheme of things, this charge will likely be relatively small, and you may decide that it's worth the money to avoid the hassle of doing it yourself.
Installation
As we touched upon earlier, some kinds of flooring are fairly straightforward to install, while others may be more trouble than they are worth. Tile specifically is a material that requires significant time and skill in order to be properly installed, which is why the labor associated with ceramic tile is going to cost more than you might expect. Laminate flooring, on the other hand, is relatively simple to install and will come with a lower overall price tag, especially if you choose to do it yourself.
---
Additions
Not every flooring material can be laid down, snapped together or nailed down, and be ready to use. If you want to plan your budget with eyes wide open, it's important that you remember that some types of flooring will require a few extra steps during installation. You may choose to add an underlayment to your laminate flooring, for example, to make it softer, add more give, and make it more comfortable to stand on for long periods of time. If you want to splurge on solid hardwood flooring, remember that you will likely have to splurge on a subfloor, too. Our professionals here at Gateway Design & Home Center can help you determine what additions you may want or need for each kind of flooring.
---

Finishing Touches
The flooring has been laid and secured, but is it really finished? Do you want to install baseboards? Are you adding a stain or finish to the flooring material you chose? You don't necessarily have to schedule and pay for all of these things at once, but if they are a part of your installation or remodeling plans, don't forget that they will likely come with an additional price tag.
If you plan ahead, you can avoid sticker shock and simply enjoy your new floors. Gateway Design & Home Center is here to give you the information you need to make a comprehensive budget and find just the right kind of flooring for your newest project. Visit us in Loveland to learn more about our options for flooring materials and installation services, or call today for a personal consultation!
---
---
---

By this point, you may be looking at the numbers on your calculator or your notebook and feeling decidedly less excited about your new project. Flooring can certainly get expensive. On the other hand, the investment in a new floor that looks great, feels comfortable, and can be enjoyed for years to come may be worth the price. To help you determine whether installing a new floor is the right decision for you and your home, we've outlined two of the biggest questions you should ask yourself before you decide to stick with your old, worn-out carpet or settle for a low-quality alternative.
Is It A Long-Term Investment?
New flooring is certainly an investment, but the time you plan to spend with that flooring may influence how much money you're willing to spend. How long do you plan to stay in the house you are building or remodeling? How long do you want your floors to last before they need replacing?
If don't want to face these questions again for another seven to 10 years, then hardwood flooring is a classic choice. It is definitely more vulnerable to harm than other materials, especially when it comes to water damage, but it has the ability to be sanded, refinished, and resealed. You can pay a smaller fee for professional maintenance in exchange for nearly new floors several times before the hardwood is too thin to resurface again. In comparison, laminate flooring is significantly more resistant to moisture, scratching, and fading, and while it may not last a decade, maintenance is simple and cheap.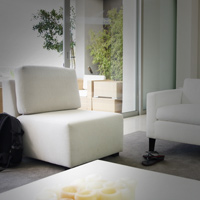 Are You Considering Resale Value?
If you plan to sell your home in the next few years, then you obviously want to choose flooring that will help you achieve that goal. New flooring in general is an excellent choice, especially if you are a contractor or a real estate investor faced with a previous tenant's terrible choices, but many will tell you that hardwood flooring is the way to go if you want to sell your property faster and at a higher price. In the name of transparency, we should tell you that the statistics don't quite support that sentiment. There is little to no evidence that hardwood increases the value of your home. However, there are a lot of homebuyers who say that hardwood floors is something they look for in a property. The choice is up to you.
With those two questions answered, it's time to go back to your budget. No matter what the numbers say, you can rest assured that Gateway Design & Home Center will work hard to give you the most value for your dollar and make sure that you finish your project with a floor you love and enjoy. Call Gateway Design today to kickstart your project and keep reading for a few tips on how to whittle down the final price tag.
---
---
---

New flooring is expensive almost any way you cut it, but there are several ways that you can lower the costs, both short term and long term. One way is to work with Gateway Design & Home Center. We work hard to not only help you find the right flooring, but also make installing your new flooring fast and easy. Our dedicated installation team will do quick, high-quality work, and combined with help from our in-store consultants, it all leads to a cheaper and faster process. Continue reading for more ideas on how to make your new flooring more affordable and call Gateway Design & Home Center to learn how we can simplify your next project!

Low-Maintenance Materials
When you are thinking about the costs of new flooring, make sure you don't forget the cost of maintenance. It can get expensive if you are dedicated to keeping your floors looking like new and you choose a vulnerable material. Engineered wood flooring, for example, has a top layer of solid hardwood that offers you more aesthetic value for less. However, it has the same vulnerabilities as a full hardwood floor, like a penchant for scratching, and as an additional downside, that thin top layer of real wood can't withstand sanding and refinishing in the same way that solid hardwood floors can. Tile, on the other hand, can handle just about anything you throw at it – or drop onto it – and cleaning it up is simple, which can save you a lot in the long term.
Budget-Friendly Alternatives
When it comes to the ideal flooring material, most contractors or aspiring DIYers will say that they prefer solid hardwood or stone. Both are gorgeous options, with a lot of variety to choose from, but they are also going to cost you.
Fortunately, there are cheaper materials that can give you almost exactly the same appearance as wood or stone. Laminate, as we mentioned earlier, has come a long way in replicating these expensive materials for less. Even experts will say that it's hard to distinguish laminate wood flooring from the real thing.
If you're skeptical, that's okay! You can visit Gateway Design & Home's Loveland showroom and see a few examples for yourself. In the end, we want you to be happy with whatever you choose, and we'll work hard to find a material that fits all your criteria.
---

DIY Installation
You probably spent a lot of time and money picking out just the right flooring material, and you want it to look perfect once everything is said and done. "Perfect" means professional installation, in most cases, and that means more money. It may be worth it to you to consider installing everything yourself instead. You will still likely have to pay for a few materials to make it happen, but after that, you're only paying with your time and effort. Wall-to-wall carpet is not a great material for beginners to work with, since you're likely to end up with unsightly and uncomfortable lumps, but laminate and engineered wood flooring are both relatively easy to install without much previous experience.
---
Choose Carefully
In the end, you should always remember that you get what you pay for. Every type of flooring has its own pros and cons, but the more expensive materials are likely to age beautifully and last longer than the cheapest choice on the market. Check out Gateway Design & Home Center's blog to learn more about each flooring type's strengths and weaknesses, and call now to get professional advice tailored to your specific project!
---
---
---

New flooring is a big investment, and without all the information you need, it can be an unpleasant shock to get the bill. With these tips, the team here at Gateway Design & Home Center hopes you can tackle your next project with confidence. Our consultants in Loveland can help you find the right flooring for your budget and your home, whether you're looking for low-maintenance tile, easy-to-install engineered wood flooring, sturdy carpet, or another customized material. With our professional installation team, we can help you with your new flooring project from beginning to end, and we'll work hard to make sure it's faster and more cost-effective than our competition. Ready to get started? Call Gateway Design & Home Center today and set up a one-on-one consultation at our Loveland showroom!